Indulge in the flavors of rich caramel, decadent chocolate and savory pecans with our Turtle Cheesecake.  Handcrafted by our expert baker, we begin with our creamy classic recipe and then pile on the caramel, chocolate chips and Texas pecans to give you a dessert that's sure to satisfy your cravings!
Made with only the freshest ingredients, including real cream cheese, hand-cracked eggs, and pure cane sugar, this cheesecake is rich in flavor, velvety smooth in texture, and perfectly complemented by our light graham crust dusting.  Every bite is an indulgent experience that will leave you wanting more.
Perfect for every occasion, order yours today and enjoy the perfect balance of turtle flavors in every bite!!
10 inch | Serves 16 | Weighs 5 lbs
FREE SHIPPING ON ALL ONLINE ORDERS
See how you can make homemade caramel and chocolate sauces to take this dessert to the next level in "Elevate your Dessert!"
Regular price
Sale price
$84.99
Unit price
per
Sale
Sold out
Elevate your dessert

If some is good, more is better, right?. Our Turtle Cheesecake is topped with generous amounts of caramel, chocolate chips and pecans, but if you're someone who wants more, here are some simple recipes for whipping-up caramel and chocolate syrups to drizzle over your cheesecake to take it to a whole new level.

Caramel Sauce
Ingredients:
- 1 cup granulated sugar
- 1/4 cup water
- 6 tablespoons unsalted butter , cut into pieces
- 1/2 cup heavy cream
- 1 teaspoon vanilla
- pinch of salt

Directions
1) Add sugar and water to a heavy bottomed saucepan; stir so it sits in a flat, even layer.
2) Warm pot over medium heat and cook until the sugar dissolves, turns clear, and starts to bubble. (It will be cloudy at first, but will turn into a clear, bubbling liquid.) This takes about 3-4 minutes. Sugar will form clumps, but continue swirling and cooking until the mixture thickens and turns a deep amber color like honey (this can take anywhere from 8-12 minutes), keeping a watchful eye so the mixture doesn't burn.
3) Carefully add the butter and whisk until completely melted. (The caramel will bubble up rapidly, so be careful and continue to whisk.)
4) Remove the saucepan from the heat and slowly pour in the cream, whisking continuously until all of the cream has been incorporated.
5) Whisk in the vanilla and salt.
6) Set aside to cool in the pan for 10 minutes.

Chocolate Sauce
Ingredients:
- 1/2 cup unsweetened cocoa powder
- 1 cup granulated sugar
- 1/8 teaspoon kosher salt
- 1/2 cup cold water
- 1 1/2 teaspoons vanilla

Directions
1) In a cold saucepan, whisk the cocoa and sugar together until the lumps are removed. Add the salt and the water, then bring to a boil over medium-high heat.
2) Reduce to a simmer; stirring constantly. Simmer for ~30 seconds and remove from heat. 3) Let cool and then add the vanilla. Don't worry if your sauce seems thin. It will thicken as it continues to cool.
4) Drizzle your caramel and chocolate sauces over a slice of your Turtle Cheesecake, and add some crushed pecans if you're really feeling adventurous!

Ingredients

CREAM CHEESE: pasteurized milk and cream, cheese culture, salt, stabilizers (carob bean and/or xanthan and/or guar gums). CONTAINS: milk; Eggs (shell eggs); Sugar (sugar); Sour Cream (Grade A cultured cream, Contains: milk);
PECANS: pecans.
CHOCOLATE CHIPS: semi-sweet chocolate sugar, chocolate, cocoa butter, milk fat, soy lecithin, vanillin, artificial flavor.
CARAMEL TOPPING: corn syrup, sweetened condensed milk (condensed milk, sugar), less thank 2% of cream, sugar, water, butter (cream, salt), disodium phosphate, salt, pectin, molasses, natural flavor. CONTAINS: milk.
GRAHAM CRACKER CRUMBS: Unbleached enriched flour (wheat flour, niacin, reduced iron, thiamine mononitrate (Vitamin B1), riboflavin (Vitamin B2), folic acid), graham flour (whole grain wheat flour), sugar, soybean oil, molasses, high fructose corn syrup, partially hydrogenated cottonseed oil*, leavening (baking soda and/or calcium phosphate), salt. CONTAINS: wheat. * Adds a trivial amount of trans fat.
MARGARINE: soybean oil, palm oil, water, salt, contains less than 2% of soy lechtin, potassium sorbate (a preservative), vegetable mono diglycerides, citric acid, natural artificial flavor, beta carotene (color), Vitamin A palmitate added, whey (milk). CONTAINS: soybean, milk.
Share
View full details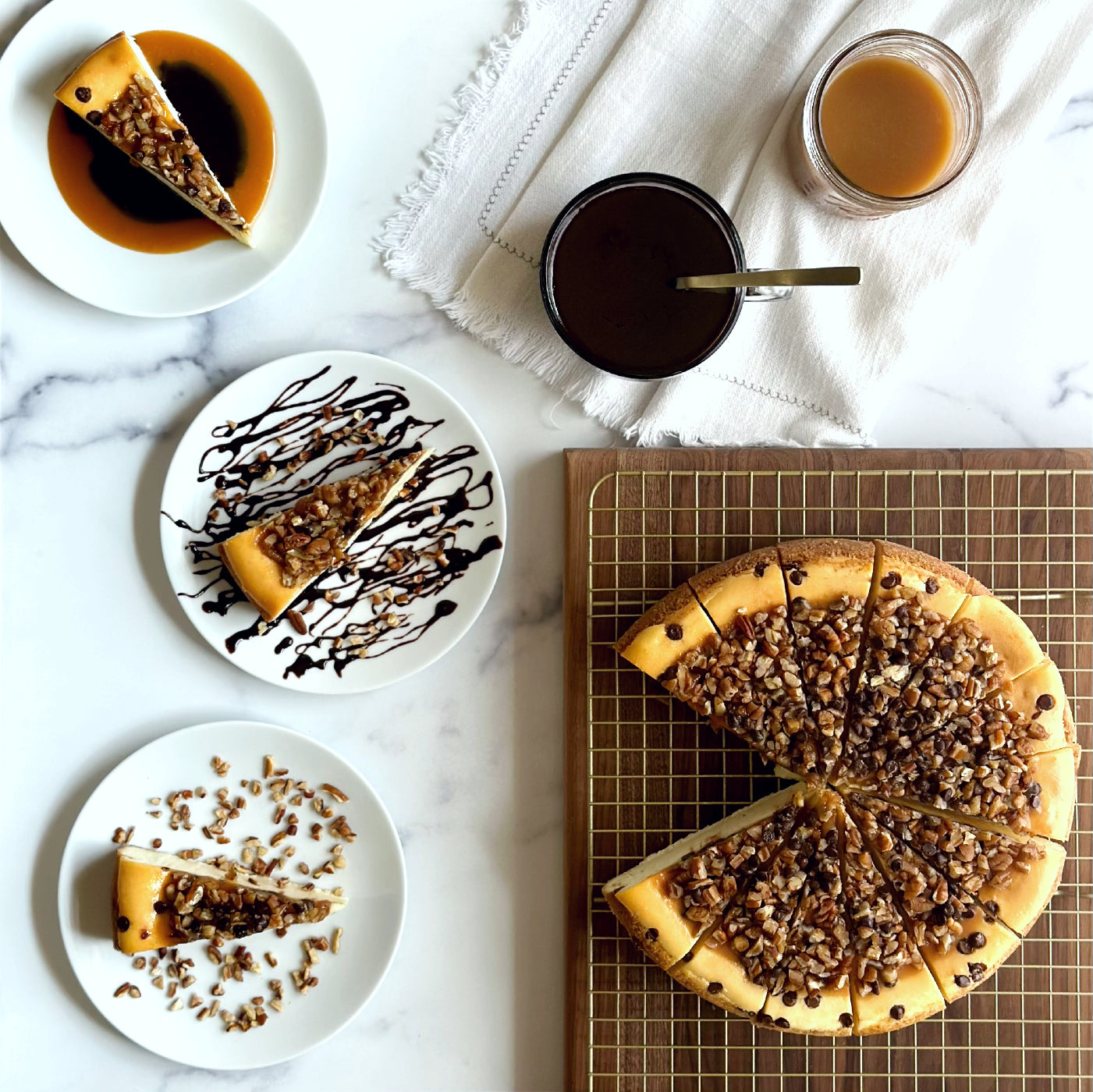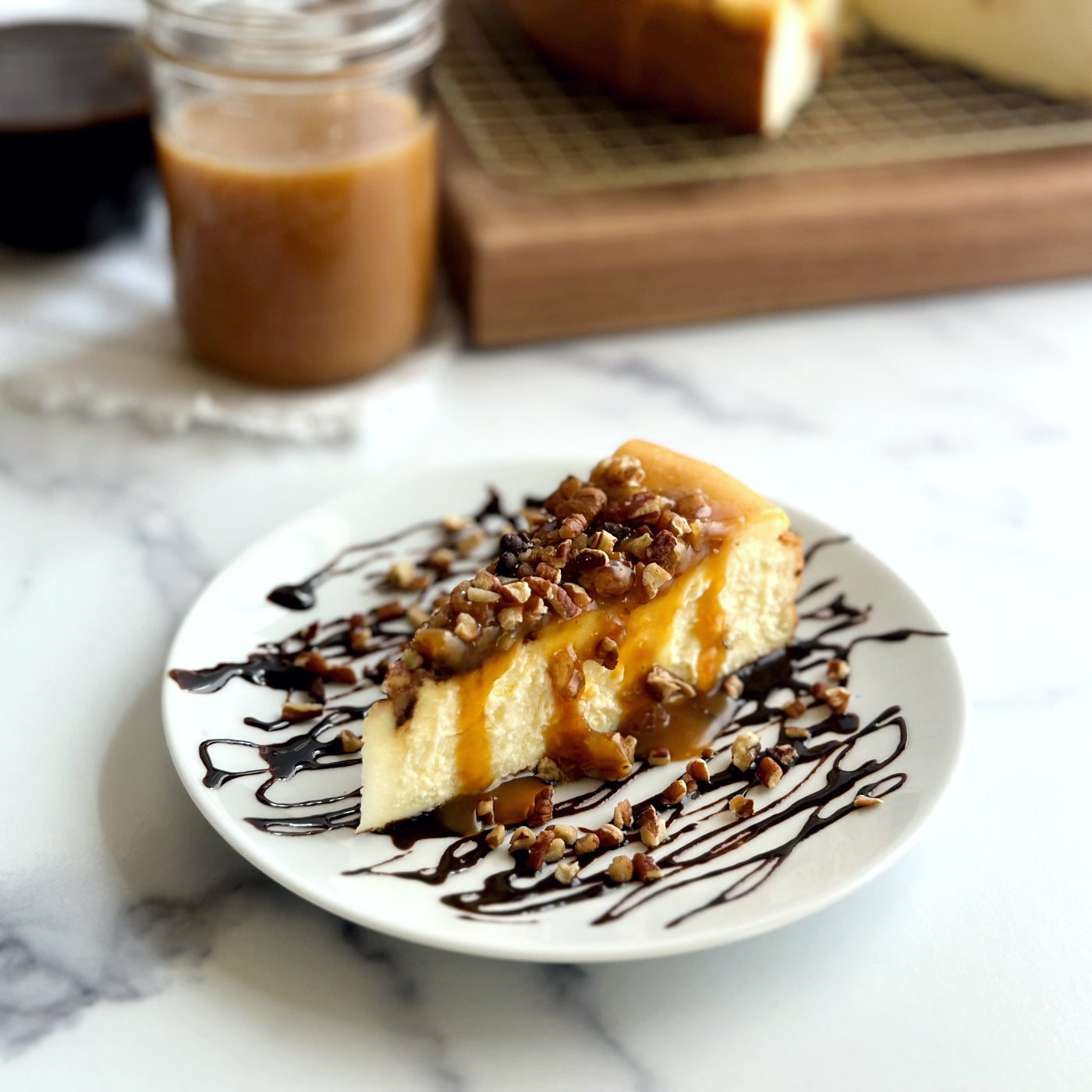 Shipping Information & Storage Instructions
Important Shipping Information

We ship Monday,Tuesday and Wednesday, for delivery on Tuesday through Friday. To ensure you get the freshest cheesecake possible, we do not ship over the weekend. Orders received after 1 pm CST will be shipped the following business day. (Orders received after 1 pm CST on Wednesday will be shipped the following Monday). We ship to the contiguous United States (lower 48 States).
Every Laura's Cheesecake is shrink wrapped and shipped in a custom-designed cooler with 2 frozen ice packs and then boxed in our branded packaging.

Storing Your Laura's Cheesecake

Laura's cheesecakes will store in your home freezer for up to 6 months in their original packaging.
Cheesecakes can be thawed in the refrigerator overnight, or at room temperature in approximately 2 hours.
Individual slices will thaw in approximately 20 minutes at room temperature
Onced thawed, cheesecake can be stored in the refrigerator for approximately one week in an air-tight container