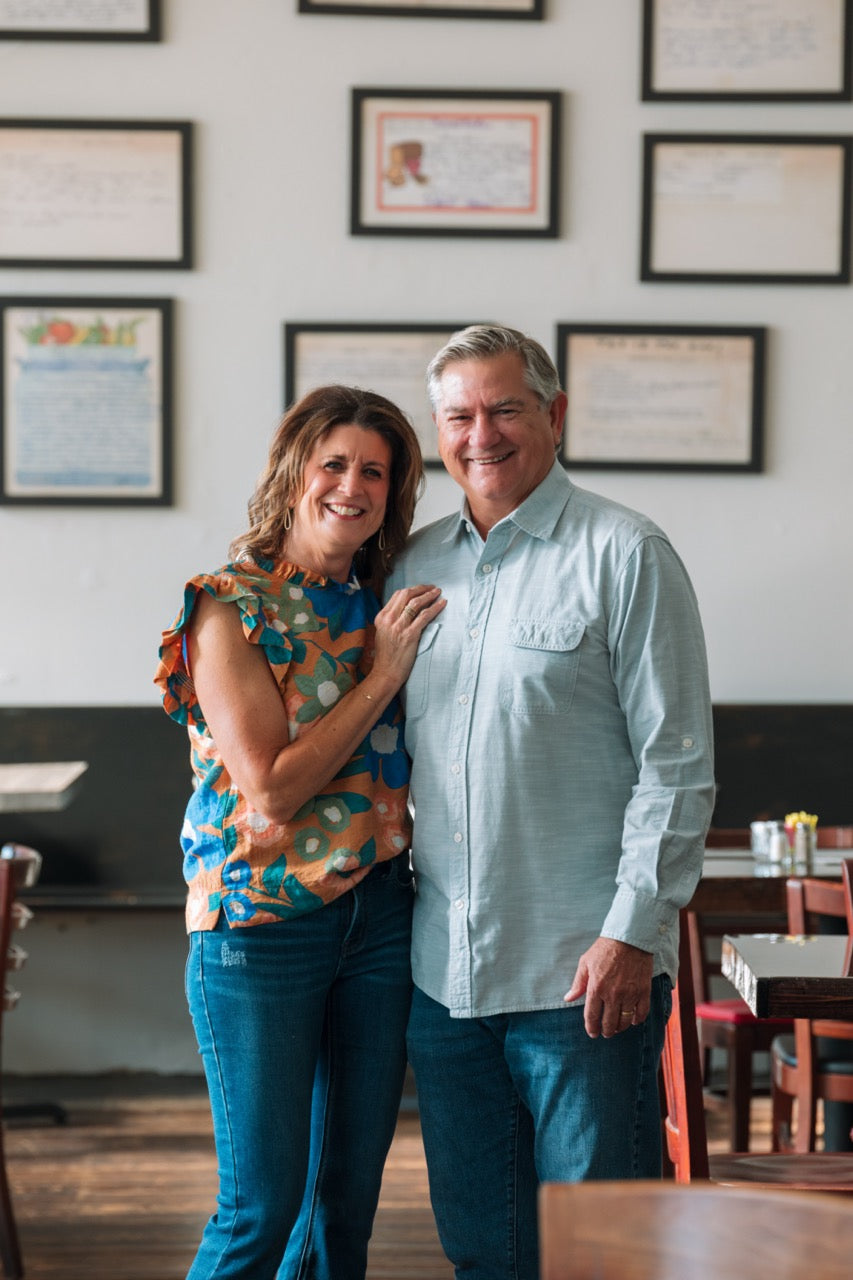 Share Love, Share Laura's
Laura's Cheesecake was founded in 1989 as the passion project of Mrs. Laura Bass, who sought to share the recipes beloved by her friends and family with her local community as a way to bring them together. Today, Laura's is co-owned and operated by Suzanne and Mitchell Walker who carry on Mrs. Laura's legacy by using her original recipe and continuing the tradition of bringing people together to serve them with an extra measure of excellence and an extra measure of love.
Married for over 30 years, Suzanne and Mitchell dreamed of owning a business that could be used to share the same love that has been the foundation of their blended family. While dreams may occur at night, they rarely come true overnight, but if you ask Suzanne or Mitchell, they will tell you there is beauty in the waiting. For 30 years they've navigated many twists and turns of life, including raising their blended family of five children, which has now grown to 28 with the addition of spouses and grandchildren.  Through all the triumphs and trials along the way, family has always been their greatest blessing and the love they share with one another is the heart of what they want others to experience through Laura's.
For Suzanne and Mitchell, sharing dinner around the kitchen table is a family tradition.  While raising their family, life was always busy between work, school and extracurricular activities; however, family dinners were a non-negotiable. Around the table their family bond grew – so much that it couldn't be contained within their family alone.  By the time their kids were in high school, it was commonplace for their friends to want to stay for dinner and be a part of the family meal.  One-by-one, each person would share the highlights of their day. The highs were celebrated together and the lows were met with love and support.  What seemed so natural and simple at the time was actually just the beginning of what would become a much bigger mission.
Today, Suzanne and Mitchell still believe that some of the best moments in life happen while sharing a meal around a table, and through Laura's, they are able to offer people far and wide a reason to gather and share something special.  It is their hope that for every gathering that happens around a Laura's cheesecake, people feel heard, supported and most importantly, loved, just like their family has for the last 30 years.
Start Sharing the Love